knives
Showing all 4 results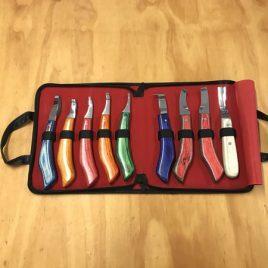 Premium Knives Collection – NEW!
9 knife coloured timber handle set.
Handle rounded and lengthened to fit all hand sizes
Polished coloured timber for easy selection
Premium grade steel with super sharp edges
Addition of open sided scalloped knives, pick knife and a new frog cutting double sided knife
In a zip up carry case for correct storage and easy selection
$350 - you won't be disappointed.
$

350.00
Add to cart