Barefoot performance is having a horse that is able to do what we want it to do in our chosen equestrian discipline, but keeping it as nature intended, without a nailed on horse shoe.
Whether that is dressage, endurance, jumping, eventing, or whatever the sport.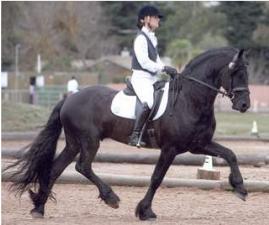 Barefooting is about growing feet under a horse that are fully functional and tough enough to protect soft inner structures and resist abrasion, even when carrying the weight of a rider.
However, it shouldn't be forgotten that horse shoes were invented for a good reason and that was to protect the soft hooves of domestic horses.  Barefooting is not just about pulling the shoes off a horse and then with some magical trim – hey presto!- barefoot performance.  It can't be half done.

Growing rock-hard, all-terrain feet is not just about the trim.  It is achieved by aligning a horse's lifestyle – as much as practical – to the natural parameters that horses evolved in.
Brumbies at Kiandra
 Working barefoot trail riding horses.
There may need to be some compromise with barefoot performance.  If a horse's feet don't have the integrity to provide it with comfortable movement on the surfaces you are riding across, the foot may need to be protected, which nowadays can be done with hoof boots.
The development of hoof boots has been the driving force behind the surge in barefoot performance around the world.  They have become a practical way to provide temporary protection – put on when required, but removed after working – so the horse can remain barefoot when it is not being ridden; and it can go about the business of growing healthy, strong and functional feet out in the paddock!