All rounders | Show jumpers | Eventers | Hunters | Trail horses | Endurance horses | Back to Barefoot Horses in Action
Frances Hughes and Argentum ter Brokeford – One
[ezcol_1half]
[/ezcol_1half] [ezcol_1half_end]
[/ezcol_1half_end]
Argie and Frances have been eventing barefoot for two years now.   In 2009 they competed in the Melbourne International Three Day Event.  Argie completed the cross country easily, his heart rate dropping down to 60 bpm within minutes of completing the 3.5km course.
Eventing is a  sport which requires high levels of strength and fitness in order to carry a rider at speed over 25 – 30 obstacles.  As with endurance, eventing horses have to put in a lot of kms to build up their fitness and this is often on the roads.  While competition surfaces are generally fine, boots are an excellent option for fitness training on hard roads and tracks.
When galloping on hard surfaces, it is reassuring to know that your horse's feet are functioning normally and providing maximum shock absorption to joints.
The advantages of bare hooves for showjumping include: improved proprioception and agility, decreased likelihood of injury due to improved hoof balance, and increased sensitivity of the feet and therefore motivation not to touch those poles. You can see Argie tucking his feet up nicely in the picture at top left.  A challenge for any showjumper is grip on slippery or muddy surfaces, so even bare feet need to be prepared according to the terrain.  A performance trim can be applied according to the conditions.
Their last competition was the EA Victoria Masters Games in January 2010, where they placed fifth in the Elementary dressage and won 3 gold medals in the showjumping.
Frances' web site can be found at www.barehooves.webs.com
[ezcol_1third]
[/ezcol_1third] [ezcol_1third]
[/ezcol_1third] [ezcol_1third_end]
[/ezcol_1third_end]
Annie
Annie is a  6yo ¼ Clydie, ¾ T'bred and has been raised barefoot. She is now  Registered EFA with eventing card.  She is able to negotiate X-country courses with ease in any conditions. At home when in training, she climbs the rocky hills like a mountain goat – without a lame step. Her feet have always been are a picture of health. She recently started her career as an eventer placing very well in her first outings. She Impresses the vets with her excellent recovery rate.
Annie's Owner writes
Annie has been part of my life since she was orphaned at 6 weeks, her mother being used as a foster mare on a well known Vic T'bred stud. She began her saddle career as a 2 y/o being started under saddle with a natural horseman having only a few months light trail riding before going out on a spell. She had only minimal riding until she was almost 4 y/o mainly due to the time constraints and the fact that she was just a bit too immature both mentally and physically to cope with a full time work load.
She has been barefoot her whole life and had the attention of 'normal' farrier trims since a baby, every time my other horses had the farrier attend to them Annie would also have a 'trim'. Having known Andrew since the 'pre' farrier days it was sort of a natural progression to turn to the 'barefoot' trim, although it did take a while for Andrew to convince me with my 'shod' horses.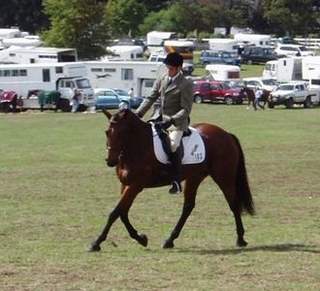 Having spent most of her years around Alexandra and now Yarck, Annie has been subjected to various terrain from wet creek flats to rocky mountain tracks. She has had it all. Having kept up with regular trimming, originally a farrier trim then to Andrew's barefooting and now me barefoot trimming her my self, Annie has never had the need to have shoes. She can travel km's down gravel roads, negate mountain tracks, compete dressage, showjumping and Cross country with ease.
She has been (other than short spells) pretty much in full work now for almost 2 years and she has proven herself time and time again the advantages of being barefoot. An example of which is at this years Wangaratta Horse Trials, her first time at Pre-Novice having never actually jumped a round of SJ or XC at this height. It flogged rain the night prior to XC & SJ……people were coming back from the XC saying how slippery it was, they were all screwing their studs in. And Annie well Jake (her rider) did take it a little bit easy having 2 time faults, but Annie did not falter, not even once. She galloped around that XC with ease. I put it down to being able to feel where she puts her feet. She has better grip and feeling in her hooves than that of a shod horse. Anybody who has competed at that level knows that there is a fair degree of fitness needed……..she gets a lot of work, most of which is on rocky tracks up and down our hills and roads.
She can compete on grass or on sand with out any problems and has proved her versatility being res champion unoff Gr 3 horse in the Upper Goulburn Dressage Series earlier this year (2007) and placing in the 2006 TTT CT training (then at level 4), winning SJ progressing from L4 to L2 with ease, as with her dressage averaging 64% in Novice/Gr 2 tests. She has taken other riders around XC courses in training that were absolute bogs (up to her fetlocks in mud at times) and has never faltered, changing her speed when needed and carefully placing her hooves where required to maintain her balance. She is 6 y/o on the 2nd September 2007 and is keen and confident no matter where she goes. A true competitor.
When people ask me 'why my horses are barefoot?', I often reply with 'why do I need shoes?' Believe it or not this question quite stumps them. My horses can travel anywhere on any type of surface over any distance with ease. And when you look at where we live, it is far from 'easy' going. By having my horses barefoot they can feel every step they take, they can travel across various terrain easier, they slip less and best of all it's cheaper. I can do it myself (with Andrews help at times of course!). You would never see a horse with shoes on at my place again – never.
Many thanks to the help of Nicky and Andrew Bowe, whose passion for better horse care has given many horses a new lease on life, including my own.
[ezcol_1half]
[/ezcol_1half] [ezcol_1half_end]
[/ezcol_1half_end]
Annie's front feet August 2007, just look at the grip and concavity.